Agile and Scrum
In today's competitive marketplace, a lone individual expert is no longer sufficient for developing, improving, and delivering innovative services and products. Scrum has become the de-facto standard for helping teams find their own effective team collaboration for dynamic, oftentimes complex projects.
Benefits of Scrum:
Simple implementation
Fosters creativity and innovation
Customer-centric design
Reduces time to market
Reduces response to changing needs and priorities
Appropriate for both simple and complex projects
Improves inter-team communication and collaboration
Increases team and employee work satisfaction
Value of a Scrum Professional Certification
Develop confidence to guide project teams using an agile and responsive approach
Demonstrate an understanding of and exposure to agile concepts
Expertly guide your team and organization to continuously and quickly respond to opportunities, improvements, or unexpected pivots
Empower yourself and team to tackle complex and sometimes ambiguous projects
Gain greater visibility for potential leadership roles and career advancement opportunities
Participate in scrum activities with confidence and a better understanding of the context
Agile and Scrum Explained
Agile is a methodology used to manage a project, especially ambiguous or complex ones, breaking it up into several phases and working in iterations. It involves constant collaboration and communication with stakeholders and continuous improvement at every stage. Once the work begins, teams cycle through a process of planning, executing, and evaluating. A Scrum framework may be used to facilitate the organization, process, and management of projects that require an agile approach.
Scrum is a framework that allows for effective facilitation and management of more complex, dynamic, or undefined projects. The framework harnesses the knowledge of essential and cross-cutting project stakeholders. It keeps a team in continual communication, supporting iterative work and flexibility to address ongoing changes or new project discoveries. Scrum was born out of the software development industry as an agile methodology to counter established waterfall-style project management processes.
In today's competitive marketplace, a lone individual expert is no longer sufficient for developing, improving, and delivering innovative services and products. Scrum has become the de-facto standard for helping teams find their own effective team collaboration.
A Scrum approach works for all product and service industries. A Scrum team is led by a Product Owner who provides the vision and direction for a defined goal or outcome. A Scrum Master facilitates communication and Scrum team effectiveness. The development team (those responsible for actualizing parts of the project work) brings the work to life and gets things done. Process and product, service, and program work is reviewed regularly and incorporates improvements ongoing throughout the Scrum framework model.

Certified Scrummaster (CSM)
Normandale's ScrumMaster certification program leverages your knowledge, skills, and experience to learn to practice Scrum in the context of your organization and the work that you do. Becoming a member of a Scrum team or building a product with a new process can be a daunting prospect and being asked to serve as the team's ScrumMaster can be downright intimidating. You've got an idea of what Scrum is and have read a few articles or books on the topic, but you really don't know how to go about putting that theory into action.
Gain the knowledge of how Scrum works, how to fill the role of ScrumMaster as well as focus on functioning as the product owner, or customer, for a Scrum team. The two-day certified ScrumMaster training program prepares you to facilitate and lead Scrum teams with the methodologies and values of Scrum, including performance, accountability, and iterative progress.
Certified ScrumMaster Package
2-Year membership with and professional listing on Scrum Alliance website
Scrum Study Guide ($50 value)
14 PDUs for Certified ScrumMaster or Scrum Product Owner towards your PMP Certification
1.4 Professional CEUs from Normandale Community College (accredited)
WIOA approved

Certified Scrum Product Owner (CSPO)
Product Owners help teams navigate market pressures, product and process design issues and provide the vision for well-formed teams to deliver results. This certification is for people who have some background in Agile and is intended to help experienced practitioners focus on the challenges faced by product and process design teams. This two-day Certified Scrum Product Owner course will put you on the path to becoming a great leader of teams that focus their energy toward successfully completing projects with real value. Upon completion, you will be registered as a Certified Scrum Product Owner, which includes a two-year membership in the Scrum Alliance.
Certification Package
2-Year membership with and professional listing on Scrum Alliance website
Scrum Study Guide ($50 value)
14 PDUs for Certified ScrumMaster or Certified Scrum Product Owner towards your PMP Certification
1.4 Professional CEUs from Normandale Community College (accredited)
WIOA approved
Product Owner

Every member of the Scrum Team plays the role of Team Member, but only one Team Member is held accountable to the Business for the Scrum Team's success and the value of the Scrum Team's results. That's the Product Owner or PO, for short. And that accountability is a big thing – it defines the PO as the formal leader of the team as far as the outside world is concerned.

The PO is the Scrum Team's eyes and ears to the outside world (the Stakeholders). They are the Scrum Team's one point of formal contact, the conduit of information. Add to this that the PO has the Scrum Team's back. Meaning, in being held accountable for the Scrum Team's results, the PO is consumed with making sure the Scrum Team is getting the proper feedback to make the right Product at the right pace. The PO spends a lot of time scoping the product, clarifying murky expectations, negotiating delivery dates, and making it all fit for the Scrum Team.

We should also note that even though the word 'Owner' is in the title, the PO may not be the Product expert. Granted, the PO has a lot of knowledge and skills, but the role is defined by accountability, not by product-specific skills. A good PO realizes there may be a wealth of smarts both inside and outside the Scrum Team and knows how to leverage this for both the Scrum Team's good and the product's good.
ScrumMaster

While the PO is the eyes and ears toward the outside world, the ScrumMaster's eyes and ears are pointed decidedly inward in many ways. The ScrumMaster (SM) is an informal leader worried about what's going on internally within the Scrum Team and making sure that Scrum is being used correctly.

The ScrumMaster is a leader without managerial responsibilities as part facilitator, part influencer, and part guru. They are laser-focused on the health of the Scrum Team and the Scrum Team's continuous improvement, especially when it comes to the Scrum Team's use of Scrum. The ScrumMaster does this by helping improve the Scrum Team behaviors and working relationships, removing stumbling blocks (in Scrum Speak called 'impediments'), and dealing with constraints.

Many people new to Scrum quickly understand getting to know their ScrumMaster is essential to feeling grounded and productive. Because the ScrumMaster is inward-looking, and the Product Owner is outward-facing, it is inappropriate for the same Team Member to play both the Product Owner and ScrumMaster roles.
Development Team

The term "Development Team" represents the portion of the Scrum Team that is currently developing or creating the product – and this may, or may not, include the PO and SM. It is proper and often useful for the PO and SM to be on the Development Team, but they must always realize that their leadership roles come first.

You can think of the Development Team a little like the Three Musketeers, operating by the motto, "All for one and one for all." When Scrum is really working well, and Teams are performing at a high level, the Development Team acts in the Development Team's best interest, with everyone doing their part to achieve a collective goal. Each member is held responsible for the Development Team's Product Production.

Unlike many work Teams, Development Teams function on a level playing field. There are no specialized roles. It's as straightforward as it sounds; every Team Member is just that, a Team Member. Development Teams tend to be small, ideally around five people. However, at times a project may dictate a slightly larger group. Every Team Member shares the same primary goal of partnering with the other team. Members to deliver the right product to the best of their abilities. Every Team Member is invested in the same secondary goal to help avoid spinning its wheels and improve as a self-organizing, cross-functional group.
External Roles

Business Owner

The three most critical external roles are a sort of triumvirate of Scrum. The external roles of Business Owner (BO), Stakeholder, and Subject Matter Expert (SME) maintain an important level of influence in the Scrum process through the PO. The BO also works with the PO to weigh in on the priority of future work in the Backlog, assist in altering the Release Plan if needed and help the PO better understand the needs of the Stakeholders. On an organizational level, the BO works closely with the ScrumMaster to help alleviate organizational impediments that get in the way of the Scrum Team's success.
Stakeholder

We can think about a Stakeholder as anyone who is invested in the project or the product. To this point, there are two types of Stakeholders: internal and external. Every Team member is an Internal Stakeholder but, for the sake of today's journey, we will focus our attention on the external Stakeholders, a.k.a. "The Big Kahunas."

If it weren't for the external Stakeholders, there wouldn't be a Scrum Team producing a Product. There will always be many people interested in the Scrum Team's Product; however, it's only the Stakeholders who truly have a vested interest in the product. It's important for the Scrum Team to recognize the Scrum "food chain" here and give the Stakeholders their props. It's essential for the team to try their hardest to satisfy the Stakeholders' needs and work with the PO and ScrumMaster when things get in the way of realizing these needs.
Subject Matter Expert(s)

As we've noted above, Scrum Teams are cross-functional groups who are knowledgeable about many things, but there may be times when the Scrum Team doesn't know everything about everything it needs to know. And that's why Scrum utilizes Subject Matter Experts (SMEs). SMEs bring something unique to the team that it doesn't possess on their own. Perhaps it's technical knowledge, business knowledge, database expertise, or a host of other things that are needed to make the right Product the right way.

A SME is a consultant in every ounce of the word. He or she imparts know-how to the Scrum Team and walks away. No accountability or responsibility. With that comes a bit of risk. Despite the SME being chock full of critical expertise, he or she does not share the Scrum Team's priorities and goals. Scrum Teams should follow some sage advice when using SMEs: try to treat them as part of your team, but remember and respect that they may have priorities that pull them in a different direction.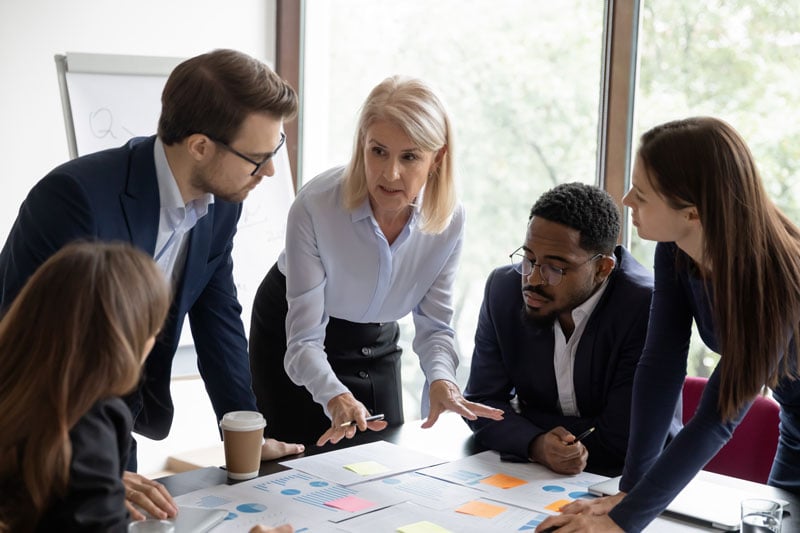 What are Scrum Events?
Scrum Events are sometimes referred to as ceremonies – where agility, collaboration, and feedback intersect to form a pathway for improvement. Four events make Scrum distinctively Scrum: Sprint Planning, the Daily Standup (sometimes referred to as the Daily Scrum or Daily SyncUp), Sprint Review, and Sprint Retrospective.
A

Sprint

is a fixed period of time (or timebox) during which development on a product occurs.
The

Daily Standup

gives a Scrum Team an allotted and preserved time to ensure everyone stays on the same page.
During the

Sprint Review, the Scrum Team demonstrates what they have accomplished.
The

Sprint Retrospective

aims to improve the practices, teamwork, and environment for the next Sprint based on how the previous Sprint went.
Corporate Employee Training
Normandale offers staff and employee development training programs for busy managers and HR professionals that can be launched immediately. Bring our training to your company!